Chris & Doc Request-A-Thon For Kids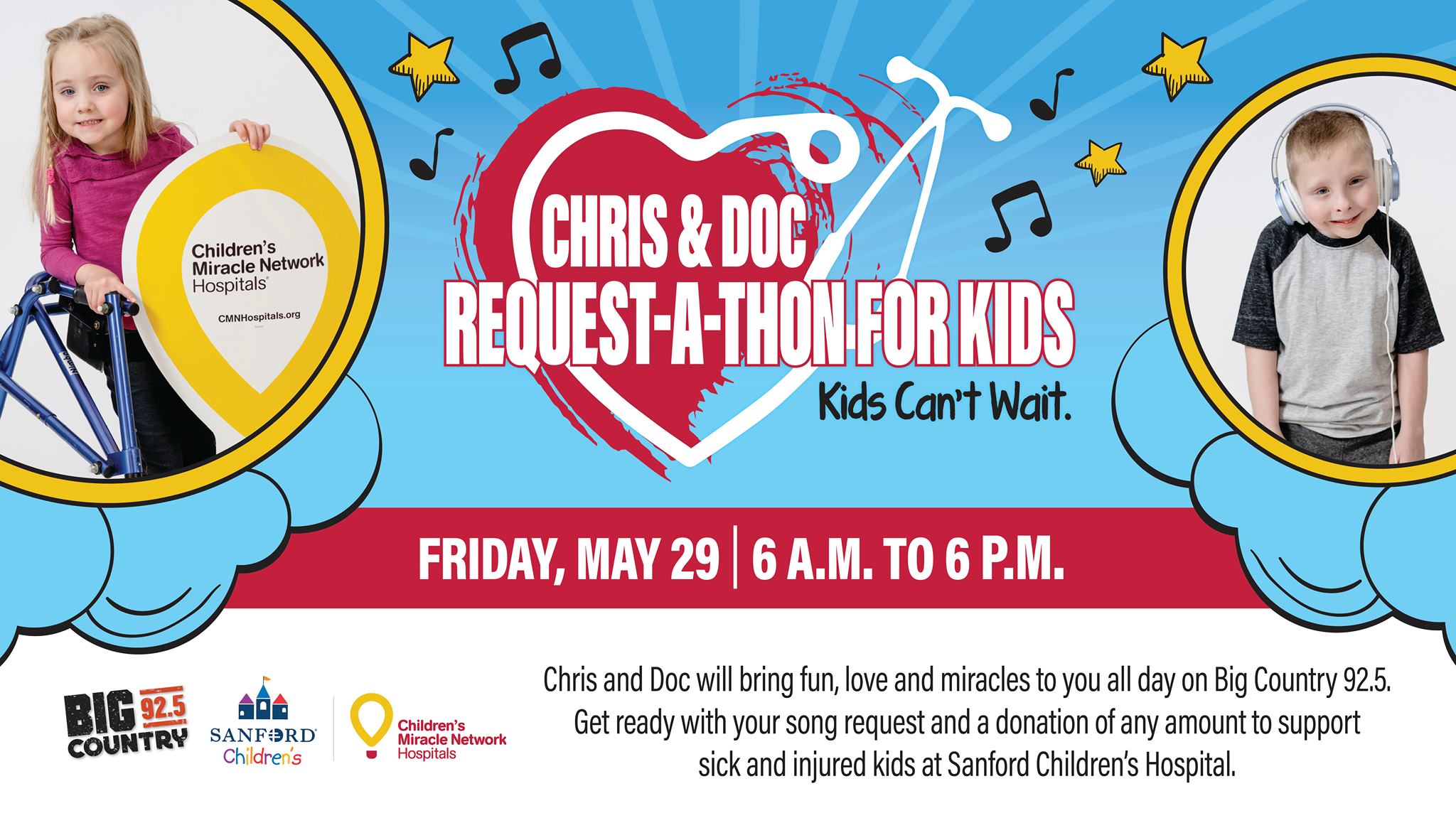 One week from today on May 29, our friends Chris and Doc will bring fun, love and miracles to you all day on Big Country 92.5! KTWB is stepping up for local families through our direct child and family assistance program at Sanford Children's Miracle Network.
When: Friday, May 29, from 6 a.m. to 6 p.m.
Where: Only on Big Country 92.5 FM
How it works: Think of your favorite song, call (605) 328-5750 to make your request (no, it doesn't have to be country music) and submit a donation of any amount. Then, dance and celebrate your impact on local Miracle families. In addition, you could win fun prizes throughout the day!
Right now, at Sanford Children's Hospital there are caregivers working to save the lives of kids in our community. Every day children enter our hospital for treatment— adding up to thousands of kids each year. Some are battling cancer. Some are suffering from a traumatic injury. Others require constant care because they were born too early, or with a genetic disease. Regardless of why the kids are there, our Children's Miracle Network Hospital always has its doors open.
As a reminder, you still can purchase "Kids Can't Wait" apparel throughout the month of May. If you are interested in learning more or purchasing one of these items, please click HERE. If you feel inspired to make a donation of ANY amount to Sanford Children's Miracle Network, please visit our website or click the big red donate button above (if you are on a mobile device the donate button is available if you click on the hamburger button in the top left corner of your screen).
Want more info about COVID-19? Sanford Health is committed to the health of our patients, our employees and the communities we serve. The COVID-19 pandemic is a rapidly evolving situation. We will continue to provide the public with the most current COVID-19 information here.
Questions? Additional questions in regards to Sanford Children's Miracle Network & Cure Kids Cancer? Reach out to Erin Sanderson, Program Director, at erin.sanderson@sanfordhealth.org.