Sioux Falls Steps Up For Cure Kids Cancer Radiothon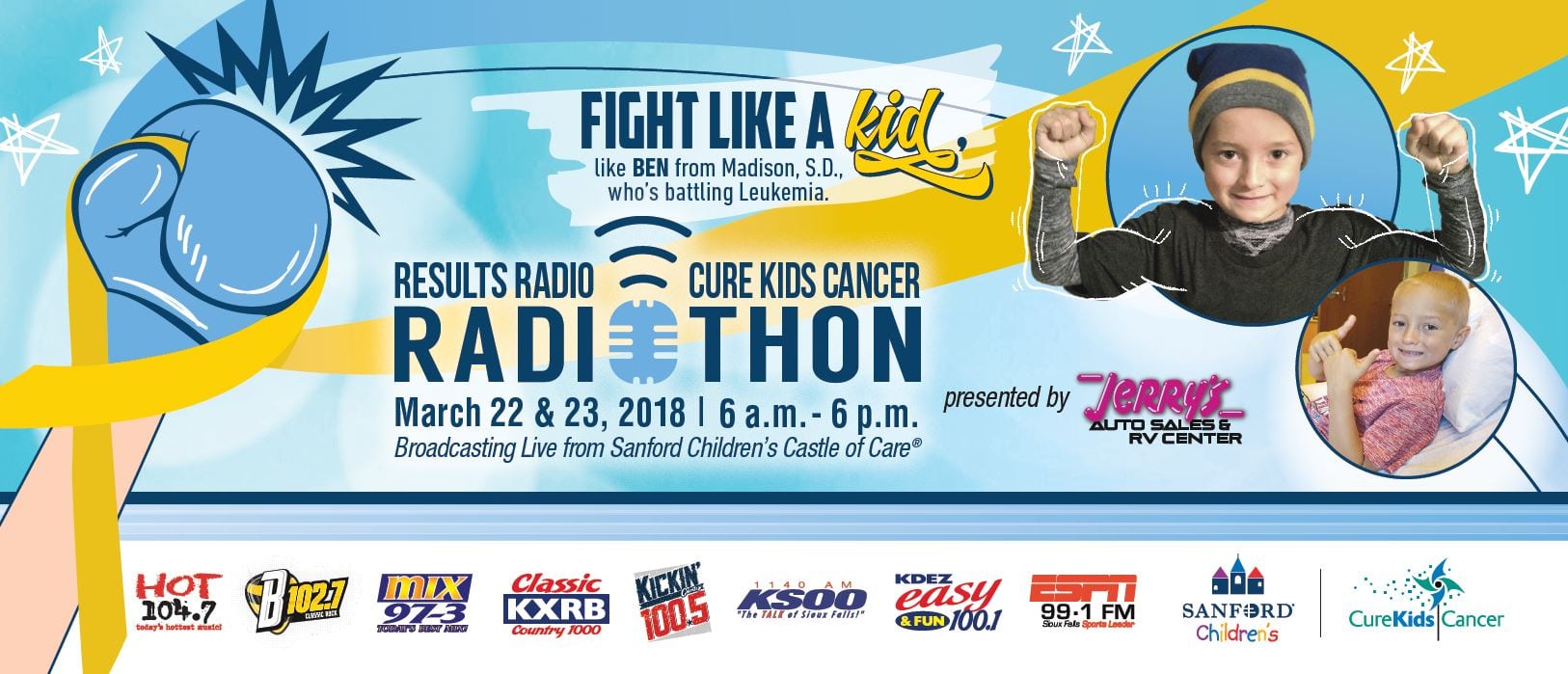 Once again, Sioux Falls listeners and sponsors have amazed us, raising a grand total of $329,557.26 during the 11th annual Results Radio Cure Kids Cancer Radiothon presented by Jerry's Auto Sales of Lennox.
Congratulations to another record. Thanks to you we raised $329,557 as part of Sanford Children's Cure Kids Cancer radiothon. Thanks to everyone who donated. Without you this couldn't have happened.

Posted by Mix 97-3 on Friday, March 23, 2018
Four Results Radio/Townsquare Media radio stations (KMXC/Mix 97.3, KIKN/Kickin' Country 100.5, KYBB/B102.7, and KKLS/Hot 104.7) gave a generous amount of their air talents' time and their airtime to feature stories about the kids who are bravely fighting cancer, those who have won their fight, and honor those, who sadly, lost the battle.  The two-day event took place from Sanford Children's Hospital Castle of Care.
All funds raised from the Cure Kids Cancer Radiothon go to support oncology services for our region: 100% of the funds raised stays local; 100% of the funds raised benefits a child in our area.
Funds are used for specialized equipment, programs like Child Life, Camp Bring It On! and the Pediatric Cancer Survivor's Program, and for direct child and family assistance that provides money to families to cover things like meals, mileage and lodging – things insurance doesn't cover.
Sanford Children's Hospital Castle of Care is the region's only Cure Kids Cancer hosptial and no child will ever be turned way, regardless of their ability to pay.
The success of this event couldn't have been possible without the support of our sponsors like, L Couture Fashion Show, Intek Cleaning & Restoration, Schoeneman's Building Materials Center, Sioux Falls Morning Optimist Club, Jason Ahrendt State Farm, Risk Administrative Services, Inc., and Burger King.
Children's Miracle Network Hospitals Radiothons are broadcasted on over 350 radio stations each year. Stations engage listeners with inspiring stories of Miracle Children from area communities and ask listeners to call in and pledge support for local kids.